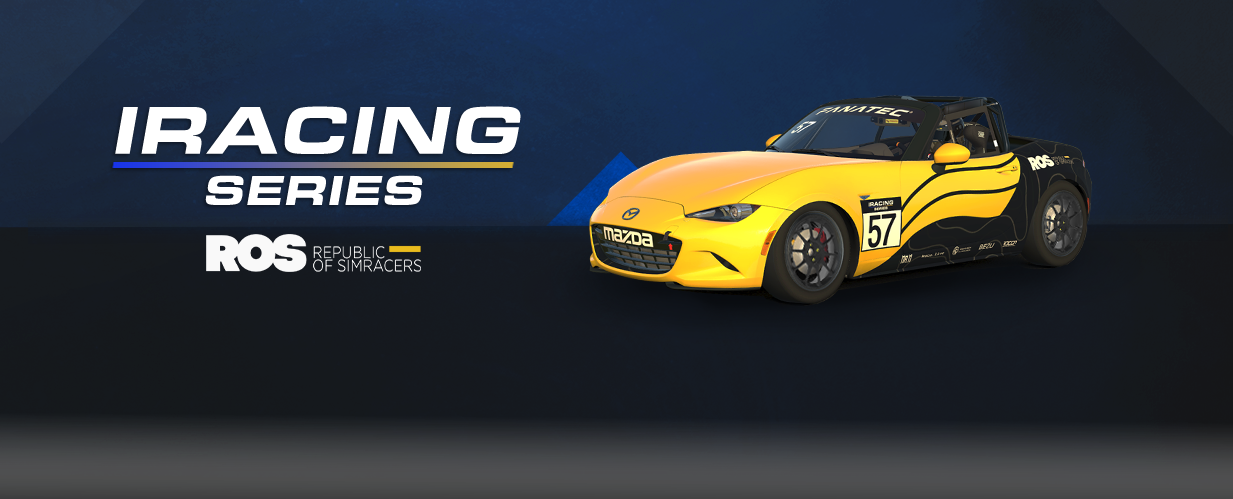 iRacing Series
START DATE 28.07.2021
RACE DAY Tuesday
78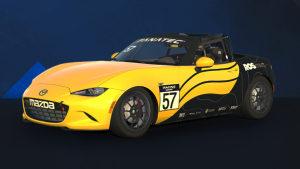 Global Mazda MX-5 Cup
Details
There are cars that are more popular in iRacing, and those that are chosen by only a few, but one car from the pool of all available cars is special. This is of course the Mazda MX-5 Cup, which everyone must have encountered at the beginning of their sim racing journey. In the new season, it is behind the wheel of this iconic car will be able to sit both track experts and those who are just beginning their adventure on virtual motorsport facilities.

With a two-litre, 181bhp engine and a weight of just 892 kilograms, the Roval will compete at Oulton Park, Laguna Seca, Okayama and Charlotte Motor Speedway in 45-minute sprints, preceded by a four-lap qualifying session.

There is no additional charge for either the car or the tracks, so all you will need to compete is an active iRacing account!
i1


i2


WeatherTech Raceway at Laguna Seca
i3


Okayama International Circuit
i4


Terms of iRacing Series
---
Organizer
Season iRacing Series will be using iRacing ona PC.
Season is organised and governed by Republic Of Simracers, registered in Great Britain, owned by Andrzej Wasielewski.

Prizes
Prizes are provided for the top3:
3.1 15 iRacing Dollars
3.2 10 iRacing Dollars
3.3 5 iRacing Dollars


---
Duration and registration
To participate in this season you must have a copy of iRacing and register for this event on ROS' website.
Signing up for iRacing Series means that you're accepting the privacy policy and season terms.

Determing the winners
Winner of the season will be the driver with the highest number of points after deducting all penalties (including final race).
In case of a points draw the driver with a higher track position in the last round will be the winner.
The driver weakest race of the season will not count towards the general classification

Qualifying and race
The qualifying session will last for 10 minutes with 4 timed laps. The qualifying results will determine the starting positions for the race.
Runda wyścigowa będzie składać się z jednego wyścigu.
The race round will consist of one race.
8.1. Setup: Open
8.2 Fuel Tank: 40%
Forecasted weather conditions will be announced on the Discord channel no less than 3 days before the end of registration for a given round.

Penalties
The amount of the penalty in the form of penalty points or exclusions is determined by the panel of judges and approved by the head of judges based on an individual analysis of the incident and its consequences.

Liveries
An account on www.tradingpaints.com is required to use the liveries. All car paintings must be uploaded through this site no later than one hour before the start of practice for the race.
Car paintings should include the numberplate specified in the template and Republic Of Simracers logos. The template is available HERE.
For players who do not have their own painting, there are 3 league paintings to choose from;| 1 | 2 | 3|, which must be selected through the "RACE THIS PAINT" option
Drivers who will not have, during more than one race, a paint job with a specific template or a paint job prepared by ROS will be excluded from receiving a prize for the place in the general classification.

Final Provisions
When participating in a public event organised by us, the Organiser reserves the right to share any materials such as stream, photos, screenshots in social media, Internet, press, television or other media. Such materials can contain details publicly used by you during the event.
Scoring will be revealed after prequalifying to R1 is finished.
A team may only consist of three drivers
Telemetry is not mandatory, yet the administrator can ask the driver to save it
Terms above agreed on 06.08.2021.

Above Season Terms are extension of the Racing Regulations. All rules written in Racing Regulations document are still applying to this event. In case of a rules conflict, rules written in above Season Terms are taking priority.
Score table
| # | platinum |
| --- | --- |
| 1 | 120 |
| 2 | 100 |
| 3 | 85 |
| 4 | 74 |
| 5 | 66 |
| 6 | 60 |
| 7 | 55 |
| 8 | 50 |
| 9 | 46 |
| 10 | 42 |
| 11 | 38 |
| 12 | 34 |
| 13 | 31 |
| 14 | 28 |
| 15 | 25 |
| 16 | 22 |
| 17 | 19 |
| 18 | 17 |
| 19 | 15 |
| 20 | 13 |
| 21 | 11 |
| 22 | 9 |
| 23 | 7 |
| 24 | 6 |
| 25 | 5 |
| 26 | 4 |
| 27 | 3 |
| 28 | 2 |
| 29 | 1 |
| 30 | 0 |